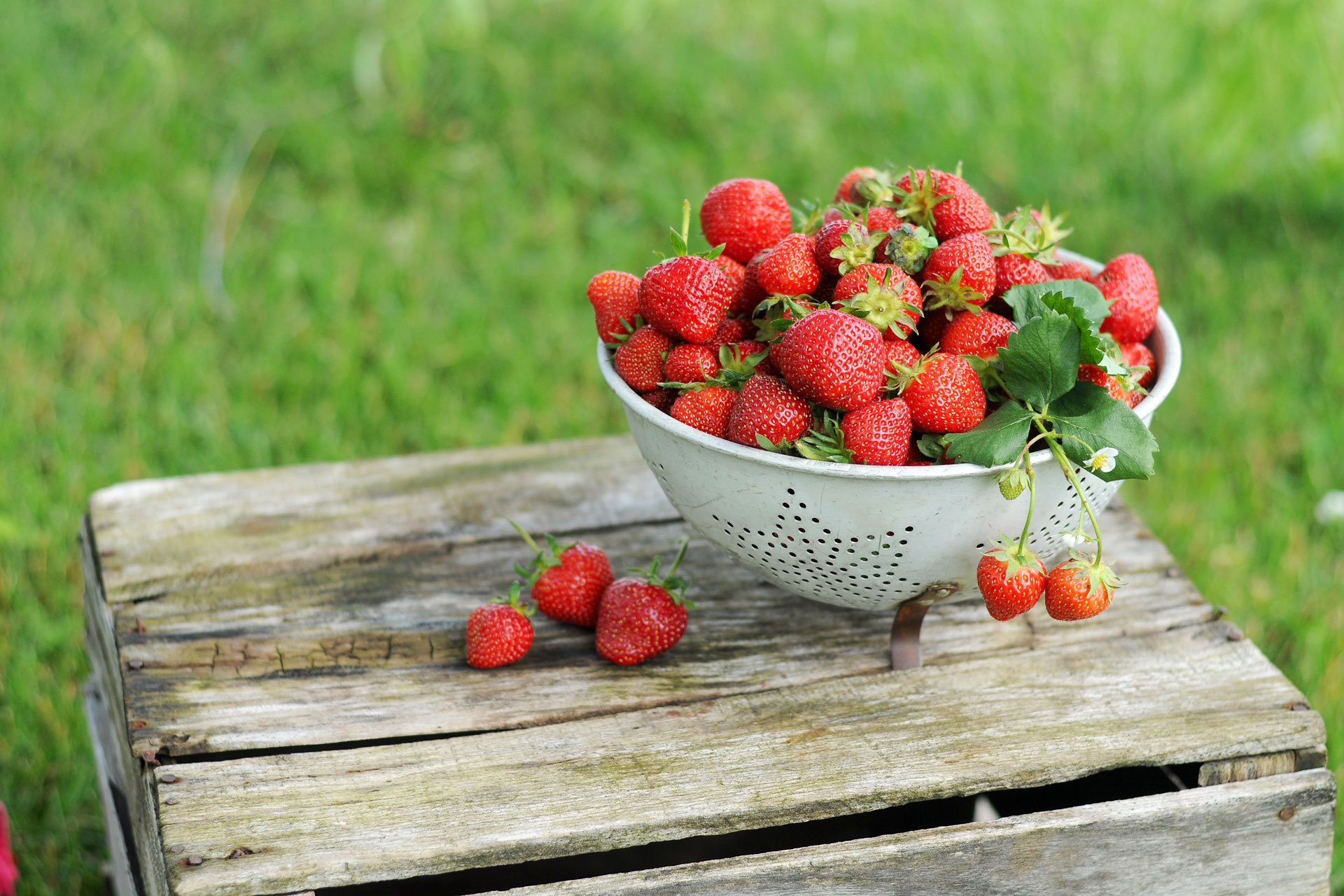 Ingredient of the Week: Strawberries
---
Each week plant-based cook Bettina Campolucci Bordi, founder of Bettina's Kitchen, gives us the lowdown on a particular seasonal fruit, vegetable or ingredient, offering cooking tips and a recipe. This week it's strawberries.
Red, heart-shaped and studded with small seeds, strawberries are one of the most popular fruits in the world. They are just coming into season here in the UK – a little bit early this year, but sweeter and more delicious than ever.
The History of Strawberries
Strawberries are grown commercially in a long list of countries, with China, the US, Mexico, Spain and Portugal leading the production. The now very common garden strawberry didn't hit popularity until the 18th century, but local wild berries have been eaten since ancient Roman times. Modern strawberries are grown and eaten all over the world and can be served raw, cooked, dried, jammed and much more.
Strawberries are actually a group of fruits (genus Fragaria) containing several varieties and are part of the rose family. The typically red fruit has an early summer harvest, this year is an early one as far as British strawberries go and perfect timing for this year's Jubilee.
The Growing Season
The actual growing season depends on the variety and location. Growers in some regions like California and Florida harvest strawberries almost the entire year, while in other parts of the world the fruit is only ripe for picking for a few short months. In their raw ripe seasonal state, strawberries need little prep and can be eaten out of hand. The price for strawberries tends to fluctuate through the growing seasons, with the cheapest berries available in the late summer. One of my favourite things to do is to go into the strawberry field and pick strawberries, which are often growing next to raspberry bushes – with one berry going straight into my mouth for taste testing purposes and the other into a basket!
Strawberry season is in full swing, so now is the perfect time to incorporate this flavourful fruit into your dessert and drink recipes. This sweet berry is packed with nutrients and vitamins including fibre, potassium and vitamins B and C. When picking your next pint of strawberries, make sure to follow these tips on how to choose, store and prep your berries. You will have your family and friends begging for more of these berry tasty treats.
How To Choose and Prepare Strawberries
Choose berries that are shiny, firm and fragrant. Believe it or not, size doesn't affect flavour, but they don't ripen after they're picked, so choose the ripest ones you can find. They should be a rich red with bright green leafy caps. If you look closely you can see that each berry has a haircut! Don't be thrown off by white shoulders; some varieties are naturally white in the centre and around the cap, even when ripe.
Store berries in the refrigerator, since they're highly perishable. Keep them in their plastic containers or, if they're just picked, in a shallow bowl, loosely covered with household paper, unwashed and with caps on, until you're ready to use them, for a maximum of three to four days. Toss any mouldy berries immediately.
Just before using them, rinse your berries with caps still attached under a gentle spray of cool water, then pat them dry with paper towels. To remove the caps, give them a gentle twist, use a paring knife to cut off the stem end or use a strawberry huller. For the best flavour, let them come to room temperature.
Freeze berries by placing them on a rimmed baking pan in a single layer, then freezing for about two hours. Once frozen, transfer them to an airtight container. A sprinkle of sugar before freezing helps them maintain their colour. They can then easily be used for smoothies, or an instant dessert.
Here is one of my favourite recipes that includes sponge, cream and most importantly strawberries – perfect for the jubilee.
Recipe: Strawberry Cream & Custard Cake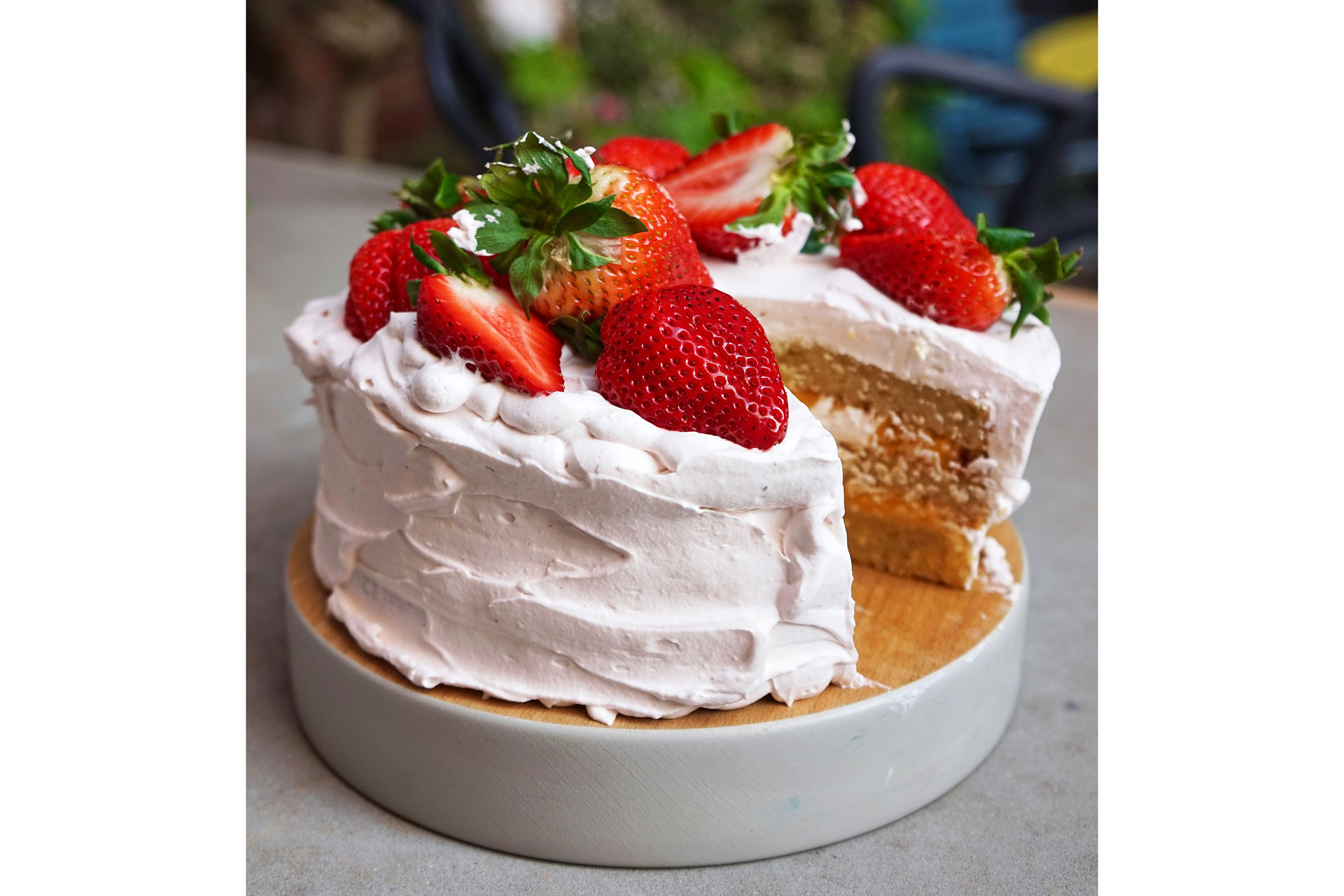 This cake went down a treat at my daughter's recent party.  It bakes beautifully and the three layers of gluten free cake are super tasty and pleasantly light and fluffy, with layers of obligatory custard in between. Finish it off with a strawberry flavoured cream and fresh strawberries… what's not to love?
Makes 6-8 servings
Ingredients
For the cake:
240g vegan butter, plus extra for greasing
300g caster (superfine) sugar (caster sugar keeps the cake light and airy)
½ small apple, peeled, cored and chopped
480ml plant milk (I like oat milk)
640g gluten-free self-raising flour
1 tbsp apple cider vinegar
1 vanilla pod (bean), split and the insides scraped out, or 1 tsp vanilla paste or extract
Pinch of salt
For the custard:
2 tbsp cornflour (cornstarch) or 2 tbsp dairy-free custard powder
250ml plant cream (I prefer oat cream)
¼ tsp ground turmeric
1 vanilla pod (bean), split and the insides scraped out, or 1 tsp vanilla paste or extract
2 tbsp caster (superfine) sugar or a sweetener of your choice
Zest of ½ lemon
For the cream:
250ml plant-based whipping cream
3 tbsp icing sugar
3 large strawberries
For the topping:
9-10 large strawberries, washed and halved down the middle, keeping the stalks on
Method
Preheat the oven to 180°C and grease 3 x 21cm springform cake tins with butter or coconut oil.
In a large bowl, cream the butter and sugar together until soft and fluffy.
Blitz the apple and milk in a food processor or blender to form a purée.
Add the flour, apple and milk purée, apple cider vinegar, vanilla and salt to the large bowl of creamed butter and sugar. Mix to incorporate everything well, then divide between the 3 prepared cake tins.
Bake in the oven for 40–50 minutes. Check if the cake is ready by inserting a skewer into the middle and seeing if it comes out clean (it may need an extra 5–10 minutes).
Remove the cake from the oven and place on a wire rack to cool completely. Once fully cooled, pop the cake out of the pan.
Meanwhile, make the custard. Whisk the cornflour/custard powder, milk, turmeric, vanilla and sugar together in a small saucepan.
Bring to the boil on the stovetop while stirring until the custard thickens enough to coat the back of a spoon, then remove from the heat.
Stir in the lemon zest and set aside to cool. Put into a piping bag.
Prepare the cream by whisking it in a bowl until nice and thick. Then, put the strawberries in a blender and blitz until it becomes a smooth liquid.  Add this to the cream, along with the icing sugar and mix to incorporate. Put into a piping bag and keep in the fridge.
Now to assemble the cake. Put the first cake on a cake stand, or a serving plate and pipe half of the custard across the top of the cake. I like to pipe in a circle from the outside into the middle, then smooth it over with a palette knife.
Place the next cake carefully on top of the first cake and repeat with the remaining custard.
Add the 3rd cake on top, and pipe the cream to cover the sides of the cake and then on top, to cover all outer surfaces of the cake, and make this smooth using a palette knife.
Lay the halved strawberries over the top of the cake, and enjoy!
MORE INGREDIENT OF THE WEEK: